BENNY MCCARTHY-Short Biography
   Benny is from Deelish in Co.Waterford. He began his musical voyage at the age of 13 and was mentored by none other than accordion legend Bobby Gardiner. Like most musicians he travelled all over Ireland to sessions and festivals meeting and playing with musicians from all regions and styles. His influences include Bobby Gardiner, Jackie Daly, Mairtin O'Connor to mention just a few. Benny was Oireachtas champion on both Button accordion and 10-key Melodeon in 1994. He teamed up with some friends to form the now Iconic band Danú, a group he still performs with and manages to this day. Benny has featured on over 30 album releases since he began his professional career in music. He has shared the stage and recorded with many internationally renowned artists over the years including Liam Clancy, Tom Paxton, John Sheahan, Donovan, Donal Lunny, Seán Ó'Sé and others. Theatre Projects over the years include collaborations with Irish Comedian/Actor Jon Kenny(D'Unbelievables/Fr.Ted) and the Irish Arts Theatre hit show Teac A Bloc created by Des Dillon (Visual Artist extraordinaire). Benny has also been part of some trade/state delegations to USA, India, Bulgaria and Europe with the Irish President and Irish Government over the years. Benny has recorded and produced many albums and theatre soundtracks in his own studio in Co.Waterford. He is regularly featured with his various groups and projects on Irish National TV & Radio (RTE. RnaG & TG4) as well as internationally on BBC, CBC, PBS etc. 
BENNY MCCARTHY-My early years
 It is very difficult to summarise all the things you can get up to over the years especially if you squeeze a lot of great things into every little moment, a big philosophy of mine thats for sure. It is very interesting where life's path can take you and all that might happen along the way. Here is me telling some of my story from my early years right up to when I took on music as a professional career. 
Benny McCarthy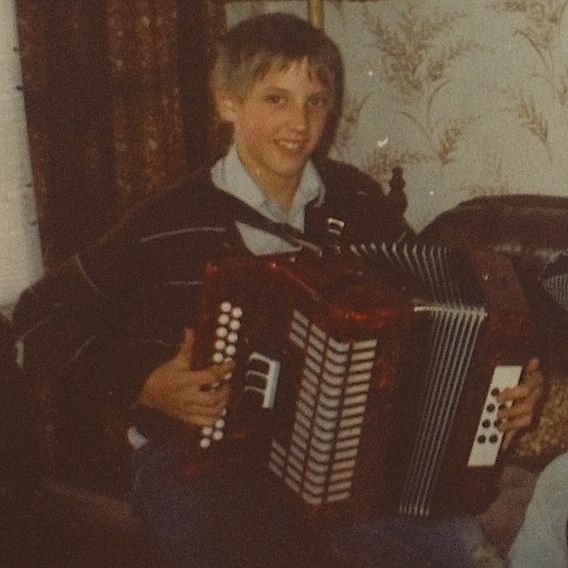 STARTING OFF
Photo-Me at home in Deelish in 1988
   I was born in Co.Waterford in 1975 and grew up in the beautiful townsland of Deelish set in the Comeragh mountains overlooking Dungravan Bay in Co.Waterford. I was born into a family of six children, my older brothers Eamon and Jerry and younger brothers Stephen and Aidan and one younger sister Sharon. My first school was Garranbane NS, a picturesque countryside school not far from my homeplace. Like many kids growing up in the 70s & 80's I loved BMX bikes, Top Of The Pops, martial arts movies, break-dancing and all the other pop things of that era. Traditional Irish music didn't interest me at that time, wasn't very cool I suppose? For my 12th birthday I got a present of a new electric Casio keyboard, this was a great gadget and also my first musical instrument! It was when I left primary school and started secondary school at St.Augustines College in Abbeyside that the opportunity for music classes in Irish music came about. They were held in St.Laurence's Hall in Ballinroad every Monday evening with local flautist and teacher Mattie Fahey, I went there with my brother Stephen on Banjo and sister Sharon on Tin Whistle. There was  a 1970's Hohner B/C Double Ray accordion on top of a bedroom wardrobe at home and I picked it, an instrument that fascinated me. The tune that really inspired me at first was the popular Bord Na Mona TV Commercial tune composed by Dubliners Fiddler John Sheahan, 'The Marino Waltz',  I remember hearing this at Mattie's music class and him telling us if we practiced we would have it by following Easter, that was inspiration enough for me. After a short time I had it on both the accordion and the keyboard!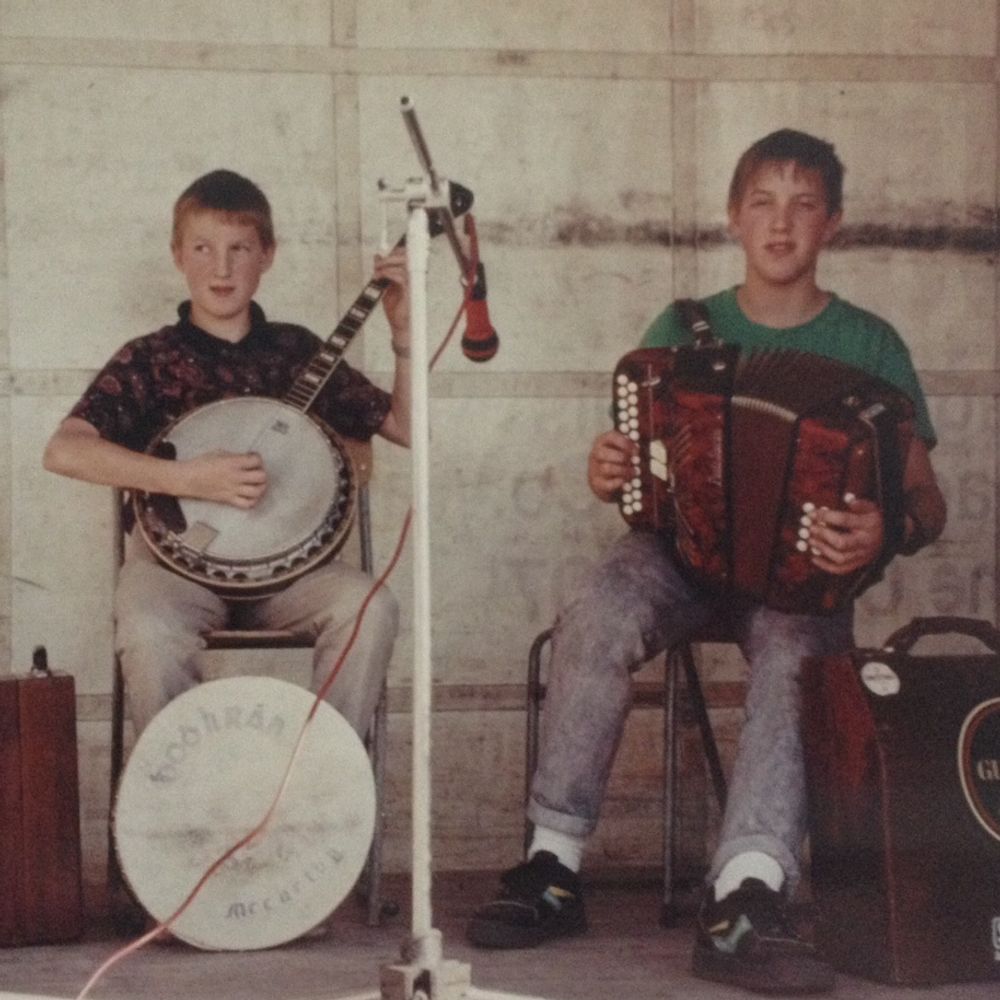 LEARNING AND PLAYING
PHOTO-Me & my brother stephen in kilrossanty 1989
A whole social scene opened up for me as young teenager and soon I found a group of young people learning and playing traditional Irish music in my home Co.Waterford, most had a few years head start on me so I heard some really talented young players at sessions and ceili's. I had to catch up so that drove me to learn lots of tunes and technique on the box. The Clare accordion maestro 'Bobby Gardiner' was also starting to teach all over Co.Waterford at this time so I decided to further my accordion journey and get classes from him. Every Saturday morning at the back of Kent's pub in Kilmacthomas which only opened for these classes. There were four of us in the 10-11am class, Ismay Crowley, POB O'Brien, myself and my brother Stephen. Our Mother used to bring us there and wait for hours in the car, we were so lucky to have huge support at home! John Hughes used to run the branch of Comhaltas in that area and he became a great friend, he played bodhran and sang and knew all the sessions and characters in this part of Co.Waterford. John used to organise regular sessions and they would hold raffles each night with all funds going to help keep the music classes and branch going. We got to meet pretty much all the old and young musicians in the area so these gatherings were amazing experiences for us. I was probably in all the great countryside pubs and halls around at this time many of which are closed and gone since, it really was a different era culturally in Ireland. Our home was in the parish of Kilgobnet and they had their own branch of Comhaltas which we joined as members, Comeraghs Comhaltas branch. This branch was run by a great man, Micheal Marrinan, he was a very active and encouraging man all over County and the person that actually got Bobby Gardiner to come and teach in Co.Waterford in the various branches of Comhaltas. 
My Father picked up a late 1950's 2 coupler Paolo Soprani and Maurice Walsh (a Garda Sergeant in Ballymacarbry at the time) tuned it up lovely for me. These red 4 voice B/C Soprani accordions were the popular boxes at the time, there wasn't many wooden accordions to be seen around then.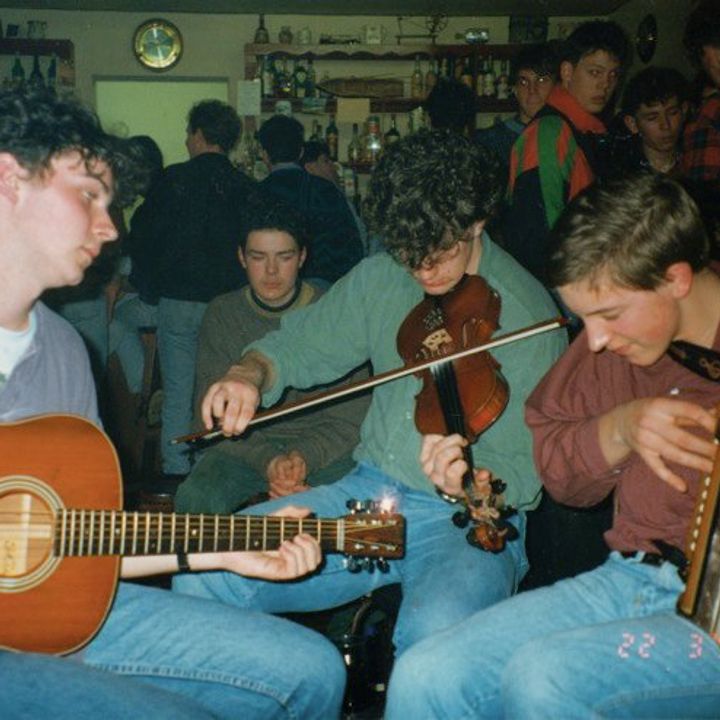 TEENAGE SCHOOL YEARS
photo-donal clancy, aodh mac Craith and myself on inis Oirr playing tunes on a school weekend trip 1990
At St.Augustines School I quickly made friends with the few Irish traditional musicians and we all had a group in the school Slogadh competitions, slogadh practice was always great excuse to get away with regular school work. Little did I ever think that future bandmates would be myself, Donal Clancy and Donnchadh Gough! 
I think for my parents I must have been a dream teenager in that my hobby was Irish Music, something they loved themselves also. My summers were spent camping at all the events I could get to, everything from Willy Clancy Summer school Co.Clare to the All-Ireland Fleadh Cheoils. I had some work during the week days playing music for tourists in my local pub, it really was Irish Music all the time! 
  My oldest Brother 'Eamon' and his fiancé Michelle were killed tragically in a terrible car crash in November 1991, this was a huge shock to us all and at 16 years of age this really had a profound effect on my life, music was so important and consoled me continuously through the long grief of this loss. I remember hearing the music at their funeral mass and how comforting and important it was, I think I knew then subconsciously that music had to somehow be a big part of my life. 
  At an All-Ireland Fleadh in Clonmel, Co.Tipperary not long after my Dad bought me a 10-Key 4-Stop Hohner Melodeon after seeing I had a keen interest in the instrument. Of course I was taking lessons from Bobby Gardiner who was also one of the countries great 10 key players so I used to tag this new instrument along to the classes and record a few tunes from Bobby to learn on the side, it was a very different instrument to the regular two row accordion and developing a melodeon style needed a different approach. There wasn't alot of melodeon players around at this time but I had Bobby Gardiner and PJ Hernon from Galway as my favourites. Another melodeon player who was coming on the scene at the time was Johnny Connolly from Connemara, I remember meeting Johnny in a pub in Ring one night and having a great chat and tunes on our Hohner 10 keys. I also soon found common tunes with Tomás Clancy from Stradbally, he was a lovely mouth organ player and composer. I also played melodeon for brother Stephen whom had a keen interest in sean-nós (Old Style) Irish dance. We used to love watching Irish music shows on RTE television  like 'The Pure Drop', 'The Mountain Lark' and 'Corner House' and on RTE radio we listened to 'The Long Note', 'Ceilí House' and a few others.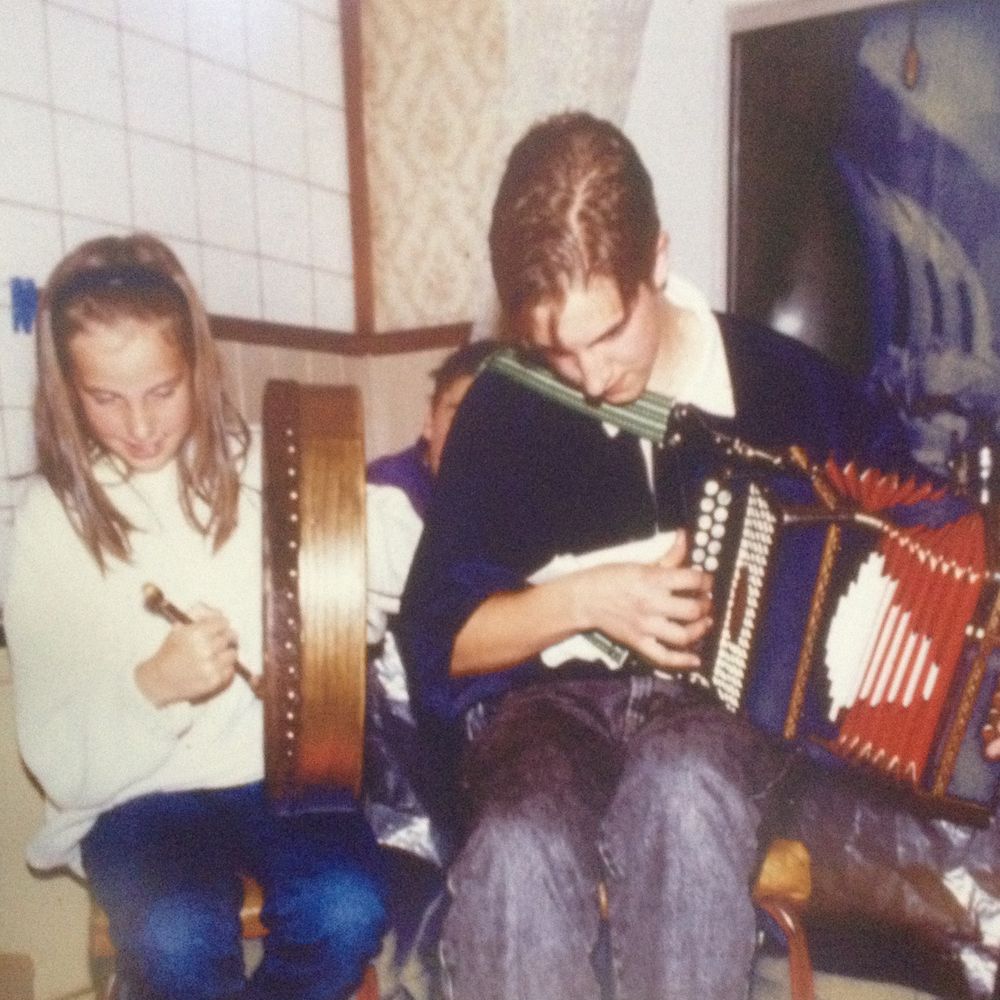 DISCOVERING STYLES
PHOTO-My sister sharon and myself in clearys kitchen, miltown malbay 1992
Micheal Marrinan and his wife Mary used to go all over the country to the small festivals and weekends and lucky for me I was brought along to some of these with them, Knochnagree in Sliabh Luachara had the Denis Murphy weekend, the Feakle Festival in Co.Clare and one I made it down to was the first Phil Murphy Festival in Carrick On Bannow in Co.Wexford which held a workshop with the great Sliabh Luachra accordion player Jackie Daly, it was here that my life changed accordion-wise anyway, I discovered the C#/D press n'draw style of accordion for the very first time from Mr Daly, it blew me away to be honest. This was an older style based on the 10 key melodeon system basically so it was definitely for me. I left Co.Wexford that weekend  with a cassette tape full of great C#/D tunes and playing, the challenge of a new box style and another great new album of more wonderful harmonica music 'The Trip to Cullenstown' by Phil, John & Pip Murphy. I set out to get one of these press n'draw accordions, the first one I bought was an 1950's Hohner in the key of D/D# from another great accordionist Eoin O'Sullivan from Michelstown, Co.Cork. All the press n' draw accordion players like Joe Cooley, Jackie Daly, Martin O'Connor and Tony McMahon had fantastic solo and some band albums released and I had a ball learning tunes from the cassette tapes and LP records at home. I was fortunate to get a whole day workshop in Mitchelstown, Co.Cork with Aidan Coffey & Eoin O Sullivan around this time, both of them were great players of course and both major influences on my developing press and draw style.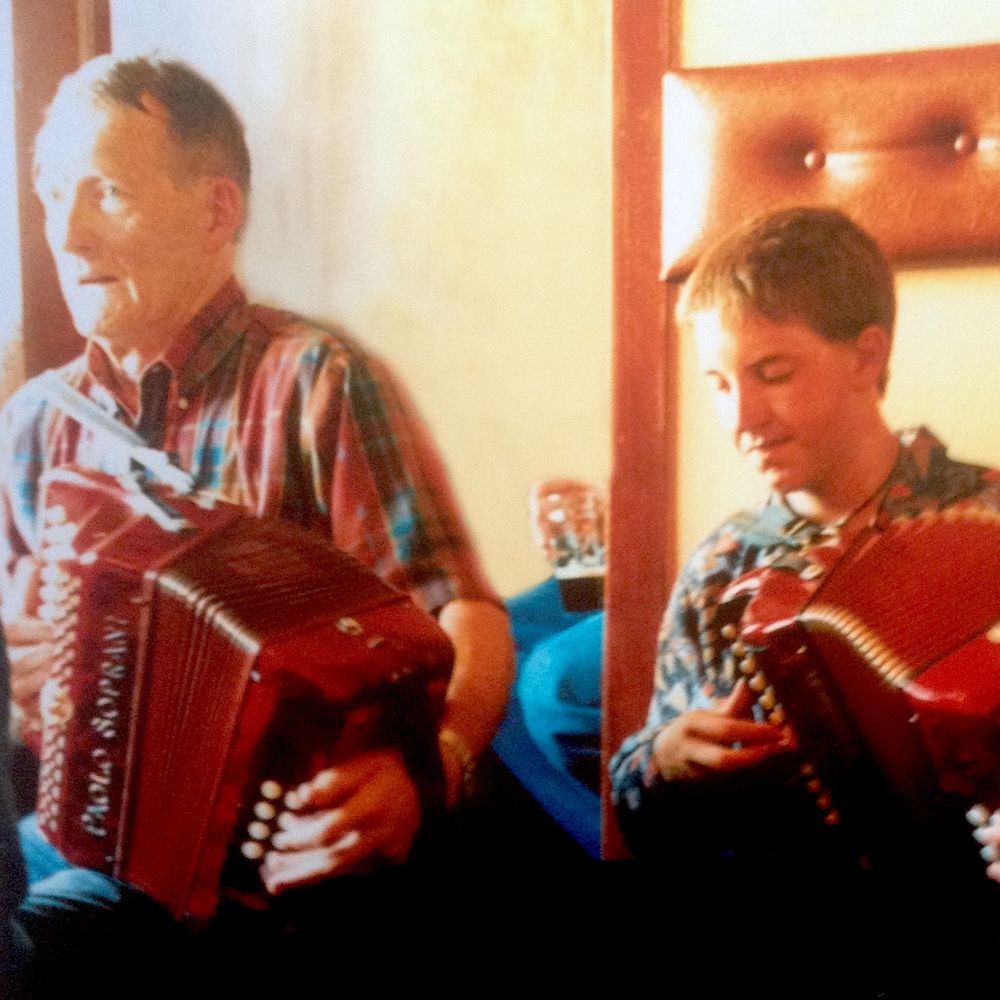 FLEADHS & MILTOWN MALBAY
PHOTO-The great Johnny Leary and myself in hennessy's pub, miltwon malbay 1991
  I was so fortunate over the years to make lots of great friends with many musicians, young and old. Some of the great older players I met included Johnny O'Leary and Denis Doody from Sliabh Luachra, Tulla Ceili band leader and fiddle player PJ Hayes from Co.Clare and all the great old Waterford musicians of course. It was at some of these fleadhs and festivals that I  first met up with Daire Bracken, Tom & Eamon Doorley, Noel Ryan, Oisin McAuley and many other great musicians of my generation, we used to have fierce fun meeting up, playing tunes and always a healthy share of jokes and blagarding thrown in for good measure. 
  I met up with the late Tommy Robinson in Miltown Malbay, Co Clare who was selling accordions that lay on the roof of his estate Mini car which was always parked in the center of town along the main street. It was with Tommy I traded in my Red two coupler B/C Paolo Soprani for a couple of small two voice Hohner accordions. I always preferred the drier subtle sounding accordions and I loved how it played with fiddles, flutes and other instruments. I knew that I probably wasn't going to win a Fleadh Cheoil Competition by using this style or type of accordion but that didn't bother me as I was learning loads of lovely tunes and meeting fantastic people. I had these Hohner accordions tuned up by the late Arthur Hogan, he lived in Glencairn near Lismore in Co.Waterford. Arthur saw that I had a keen interest in accordion repair and was very generous in showing me some great tips in accordion tuning.